Create an Amazon Associates account
caution
Before creating an Amazon Associates accounts, Amazon requires that you have a fully functioning site with content on it (you will need to provide details of it during the sign up process). Make sure you have at least 10 blog posts on your site before continuing.
Now it's time to create your first Amazon Associates account!
Now you may be thinking, "First Amazon Associates account? How many of them am I going to need?"
Well the thing with Amazon Associates accounts is that they're regionalised, meaning that if you sign up for an Australian Amazon Associates account, you'll only be able to generate links and receive commissions from products available on the Australian Amazon storefront, amazon.com.au. If you want to promote products available on the US Amazon storefront, amazon.com, then you'll need to sign up for a US Amazon Affiliates account. The process for signing up to all of them is just about the same.
Here is the full list of Amazon Associates programs available as of April 2022. You can use the link to sign up for accounts in the region(s) of your choosing:
note
Not sure which region to pick? A good place to start is the region that most of your traffic will come from. This is determined by where you plan to focus your promotional activities geographically, whether that be via SEO or paid advertising such as Facebook or Google ads.
Shameless plug incoming: Our Agora app has a feature where it will dynamically choose the right affiliate link to send your user to based on their location, so you will always send them to the right Amazon storefront! Check out More Agora features for more information.
The sign up process​
You will need an Amazon account in order to sign up as an Amazon affiliate. You will be asked to sign in or create a new account when you click on the Sign up button on the home page of the region of your choice.
tip
While there's nothing stopping you from using the account you're likely already using to buy stuff on Amazon, It's always a good idea to create a new one that you exclusively use for your new affiliate empire.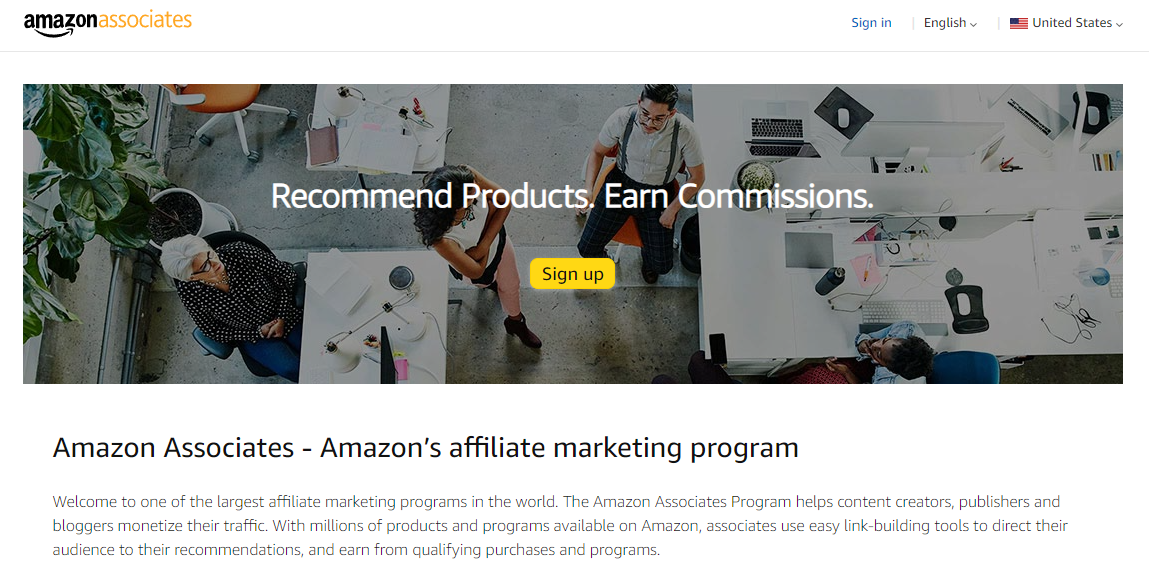 Indicate who the main contact for the account is. As you're likely the only person working on your empire, it can just simply be you.

List the websites and mobile apps you plan to post your affiliate links to. In our case, unless you're planning to post affiliate links on sites or mobile apps other than the site we just created, you can just simply list the URL of the site we just created.
note
Now is the time to purchase a domain for your site, in case you haven't already. Having a custom domain looks far more professional than the storename.myshopify.com domain that you get when you created the store.
Make sure to list your new custom domain, not your storename.myshopify.com domain
Answer the questions about traffic and content. This is why we suggest you have at least 10 blog posts on your site, as if your site doesn't have much content on it (or even worse, content from other sites) you're more likely to have your application rejected.

You will receive a call to verify your phone number. Follow the promts to get it verified (which includes receiving an automated call where a PIN is read out to you). You will need to enter this PIN when Amazon asks for it.

Read and agree to the contract terms, then click Finish.

Now we play the waiting game. It may take Amazon between 1 to 3 days to review your application. You will receive an email once it has been reviewed.
Hopefully at this point your account will be approved, and you'll be ready to start adding affiliate links to the content you've just created. But before we get stuck into that, we need to cover some important ground rules about the Amazon Associates program in the next section.