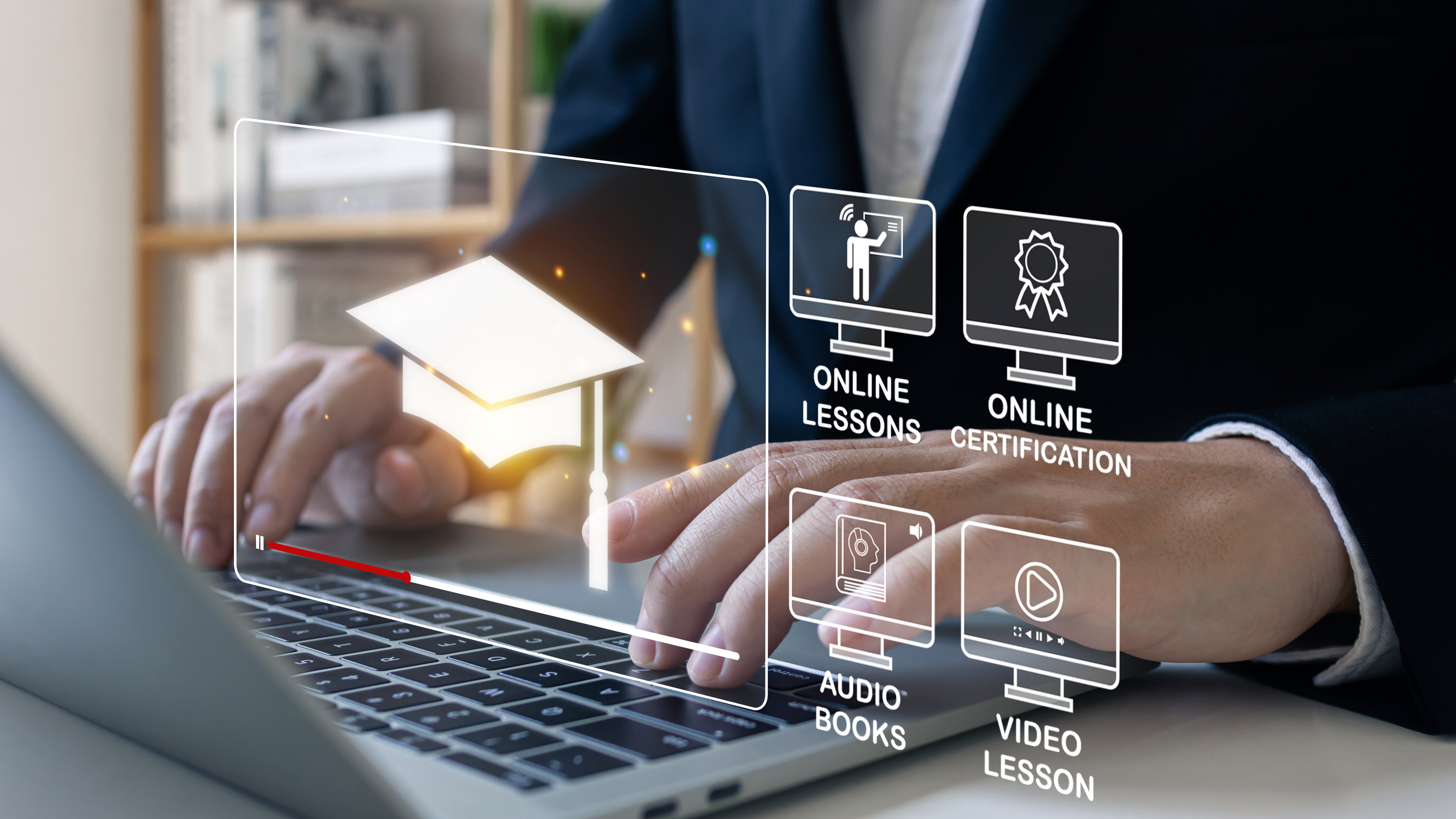 In today's digital age, there's no shortage of opportunities to make money online. Whether looking for a side hustle or a full-time career, you must develop specific skills to succeed in the online marketplace. This article will explore three critical skills for making money online: copywriting, web and graphic design, and social media management.
Why online skills are important for making money​
Online skills have become essential for generating income in today's digital age. As more businesses focus on the internet, the demand for individuals with specialized online abilities grows.
Mastering these skills opens up many job opportunities and allows you to work remotely or freelance, enabling you to determine your schedule and income. Additionally, navigating the online world can give you a competitive edge, making you a sought-after asset in an increasingly crowded job market.
Skill 1: Copywriting​
Copywriting is one of the best skills you can acquire to make money online. In essence, copywriting is the art of writing persuasive and engaging content, with the primary aim of driving readers to take specific actions, such as purchasing a product, subscribing to a mailing list, or sharing content on social media.
It's a valuable skill in the digital age, as businesses across all industries consistently need talented copywriters to effectively communicate their messages and promote their products and services online.
Copywriting goes beyond mere content writing; it incorporates stylized and strategic writing techniques to entice the reader and evoke emotions, all with the ultimate goal of converting them into loyal customers.
High-quality copywriting is at the heart of successful digital marketing campaigns. As more and more businesses turn to the internet to reach their target audience, the demand for skilled copywriters is on a constant rise.
You could work on various projects as a freelance copywriter, from creating enticing product descriptions and landing pages to crafting engaging email newsletters and blog posts. Some copywriters even specialize in writing scripts for explainer videos or social media ads.
The best part about becoming a successful copywriter is that you don't need a formal degree or years of experience to make a sustainable income. With a knack for writing and a commitment to learning the ins and outs of the craft, you can quickly begin building your portfolio and creating a name for yourself in the industry.
Additionally, many online marketplaces and platforms have made connecting with clients and finding work easier, allowing you to create a profitable business from home.
Definition and importance of copywriting​
Copywriting involves creating compelling content that persuades readers to take action, such as buying a product, signing up for a newsletter, or engaging with a brand. It's a valuable skill for making money online because well-written content drives traffic, increases conversions, and strengthens brand identity.
Copywriting platforms and marketplaces​
Some popular copywriting platforms and marketplaces where you can earn income include Upwork, Fiverr, Freelancer, and Problogger Job Board.
These platforms provide writers and clients easy access to connect and collaborate on content-based projects, giving copywriters ample opportunities to find work.
How to improve your copywriting skills​
Start immersing yourself in advertising and marketing to improve your copywriting skills. Read books and articles on the subject, follow successful copywriters on social media, and analyze top-performing ads' headlines and body copy. Practice is also crucial, so consider writing daily and seeking feedback from peers or mentors.
Another way to hone your skills is by taking online courses and workshops from reputable sources like Udemy, Coursera, or Skillshare. Lastly, don't be afraid to experiment and adapt your writing style according to client needs or industry trends, as this will make you a more versatile and in-demand copywriter.
Skill 2: Web and Graphic Design​
Another valuable skill to have when looking to make money online is web and graphic design. The demand for visually appealing and user-friendly websites is growing in today's digital age.
Everyone from small businesses to large corporations seeks skilled web and graphic designers to showcase their products and services online. This skill is sought after by a wide range of industries, meaning that a talented designer can appeal to various clients and projects, increasing their potential income.
Web design involves creating, organizing, and maintaining websites focusing on user experience, functionality, and aesthetics. Graphic design, on the other hand, consists in creating visual content for different platforms like logos, social media, print materials, and websites. Both require a creative eye, technical ability, and the ability to communicate effectively with clients.
Numerous tools and platforms are available to web and graphic designers, making it incredibly easy for freelancers or remote workers to build a successful online career. The Adobe Creative Suite, including Photoshop and Illustrator, and web design platforms such as WordPress, Squarespace, and Wix are some of the popular resources in the field.
It's essential to keep up with current design trends, network with other designers, and avail yourself of online courses, resources, and tutorials.
Websites like Behance, Dribbble, or Awwwards can offer insight into other designers' work, inspire, and help you develop your design style. With dedication and continuous practice, you'll be able to develop the necessary skills and expertise to succeed in this highly-competitive industry, allowing you to make money online with web and graphic design.
Definition and importance of web and graphic design​
Web and graphic design encompass the creation of visually appealing and functional websites, logos, and digital marketing materials.
With the rise of e-commerce and online marketing, businesses often seek skilled designers to establish their brand identity and boost their online presence, creating a high demand for this skill.
Popular web and graphic design platforms​
Some popular web and graphic design platforms are Adobe Creative Cloud, Canva, Figma, Sketch, and InVision. These platforms provide tools and resources to create visually appealing, responsive, and user-friendly designs, essential for businesses to succeed in today's digital landscape.
How to improve your web and graphic design skills​
Practice regularly and stay updated with the latest design trends. Online tutorials, courses, and workshops can help you learn new techniques and software.
Websites like Udemy, Coursera, and Skillshare offer classes on various design topics, both free and paid. Additionally, you can experiment with different design styles and take on personal projects to build a diverse portfolio.
Lastly, joining online communities of designers, such as forums and social media groups, can provide you with networking opportunities, constructive feedback, and industry insights, further boosting your skillset.
Skill 3: Social Media Management​
Another highly in-demand skill to make money online is social media management. Almost every brand or business nowadays has a social media presence to maintain its reputation, connect with its target audience, and drive traffic to its website. This is where a social media manager comes in.
A social media manager is responsible for crafting engaging content, monitoring and maintaining a brand's image, growing the number of followers, and analyzing performance metrics to ensure the strategy is effective. To excel at this job, you must be creative, highly organized, and understand different platforms like Facebook, Twitter, Instagram, LinkedIn, Pinterest, and more.
As a social media manager, you can find work opportunities on freelancing platforms like Upwork, Freelancer, and Fiverr. Alternatively, you can directly reach out to businesses and offer your services. There's also the option of starting your own social media management agency and building a team to cater to a larger client workload.
It's crucial to stay up-to-date with the latest trends, algorithms, and best practices to improve your social media management skills. There are numerous online courses, blogs, podcasts, and webinars available that will help you strengthen your understanding of different platforms and strategies. Additionally, familiarizing yourself with tools like Hootsuite, Buffer, and Sprout Social will enable you to manage multiple clients more efficiently.
Social media management is a highly sought-after skill in today's digital landscape. Becoming proficient in these skills will open many opportunities for making money online.
Definition and importance of social media management​
Social media management involves creating, scheduling, and analyzing content for platforms like Facebook, Instagram, and Twitter. In today's digital era, businesses rely heavily on social media to engage with customers, build their brands, and drive sales. By mastering this skill, you can leverage your expertise to help businesses grow while making money online.
Popular social media management platforms and tools​
Popular social media management platforms and tools include Hootsuite, Buffer, Sprout Social, and Agorapulse. These platforms enable managing multiple accounts, scheduling content, and analyzing your social media efforts, allowing you to stay organized and engaged with your online audience.
How to improve your social media management skills​
To enhance your social media management skills, stay updated on the latest trends and algorithm changes on various platforms. Follow industry leaders and participate in online communities to gain insights into effective strategies.
Next, familiarize yourself with popular tools and analytics to streamline processes and measure success. Take online courses, attend webinars or workshops, and engage with other professionals in the field to learn from their experiences.
Practice your skills by managing your social media accounts, volunteering for non-profit organizations, or freelancing to gain hands-on experience and build a strong portfolio.
Conclusion​
Mastering skills like copywriting, web and graphic design, and social media management can significantly boost your income potential online. Continuous improvement and staying updated on industry trends are crucial for success. So, start honing these in-demand skills to make money online.